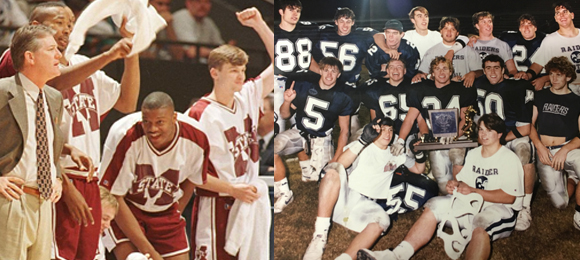 Two of the biggest sports stories in the state of Mississippi during the 1995/96 school year were Coach Sherard Shaw's championship football team in November 1995, and Mississippi State's Final Four basketball team in March 1996.
Interestingly, the two stories had many common links.
The 1995 Raiders were the first Jackson Academy football team to capture a state championship, while the 1996 Bulldogs were the first team from the state of Mississippi to advance to the Final Four of the NCAA tournament.
En route to the state championship, Shaw's team had to break Jackson Academy's 0-11 all-time losing streak versus arch-rival Jackson Prep. At the same time, graduates of the two rival high schools comprised a surprising mix of players and support staff on Mississippi State's Final Four team. Considering that neither high school had produced more than one or two Division I basketball players in their collective histories, it was highly unusual that nearly a quarter of Mississippi State's roster in 1996 came from the two private schools. Players included Whit Hughes and David Rula from Jackson Prep, and McKie Edmonson from Jackson Academy.
In addition, student managers for the MSU basketball team included former Jackson Academy basketball players Ryan Irving (JA class of 1992) and Bubba Shaw (JA class of 1993).
When first presented the notion of serving as a student manager at Mississippi State, Bubba Shaw rejected the idea until his father convinced him that such an opportunity could produce a once in a lifetime experience.
A short four months after Sherard Shaw's death, Bubba found himself standing courtside in Continental Airlines Arena in New York as Mississippi State collided with the Syracuse Orangemen in the semi-championship game.
The 1996 Bulldog team is widely regarded as the best ever from the state of Mississippi and remains the only team from the state to ever advance to the Final Four.