The Shaw Commemorative Helmet
Alabama has Bear Bryant. Notre Dame has Knute Rockne.
And Jackson Academy has Sherard Shaw.
Since its inaugural season in 1980, no one has had a greater or more lasting impact on the Raider football program than Coach Sherard Shaw. From building its early junior high program into a powerhouse, to grooming the players Sammy Dantone used to reach the state championship in 1984, to his triumphant return to revive the junior high program in 1992, to his final masterpiece in 1995 that brought home the first varsity football state championship. Any conversation of the Jackson Academy football program starts with Sherard Shaw.
TWENTY (20) handcrafted, limited edition helmets have been commissioned as part of the documentary movie on the life of Coach Sherard Shaw. Each helmet is masterfully detailed and infused with intriguing symbolism guaranteed to make it a treasured display piece in any home or office.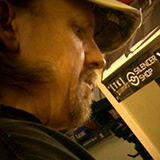 Weaponry Artist – An expert in the world of custom weaponry, Tim Little used his extreme artistic skills to apply the helmet's unique ceramic paint theme.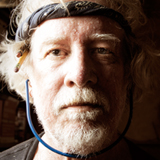 Master Woodworker – Recognized as one of Mississippi's most talented craftsmen, Fletcher Cox designed and hand-produced the walnut base for each Shaw Commemorative Helmet.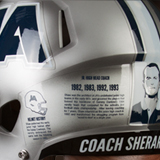 Silver Side – Shaw took over the Raider junior high program in 1982 and promptly adopted a Dallas Cowboys look for his uniform. Coach Sammy Dantone liked the look so much he implemented it the following season with the varsity team. The silver helmet is still used by the junior high to this day. (Watch: "The Evolution of the Raider Helmet").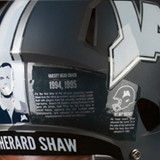 Navy Side – When Shaw took the reigns as varsity head coach in 1994, he elected to retain the navy base introduced in 1992, but he did return the iconic JA to the side along with center striping similar to his old junior high helmets. This was the helmet worn by the 1995 championship team and has remained largely unchanged to this day. (Watch: "The Evolution of the Raider Helmet").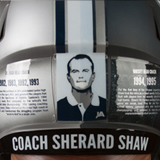 Custom Decal Package – The entire package of decals on the helmet was specially designed for this project. The tri-colored center stripe terminates with an image of Coach Shaw. History decals summarize his tenures as both junior high and varsity football coach at JA.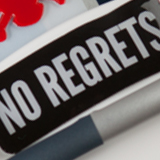 No Regrets – A reoccurring message from Shaw to his 1995 championship team, and the embodiment of how Shaw lived his own life.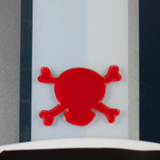 The Mysterious Blood Skull – Prior to the opening game of the 1995 season, several members of the team recall finding a red skull and crossbones on the front of their helmets. The decals (presumably placed there by Shaw) came without precedence or explanation. Not every player received one and the true meaning and intent behind the decal remains largely a mystery.